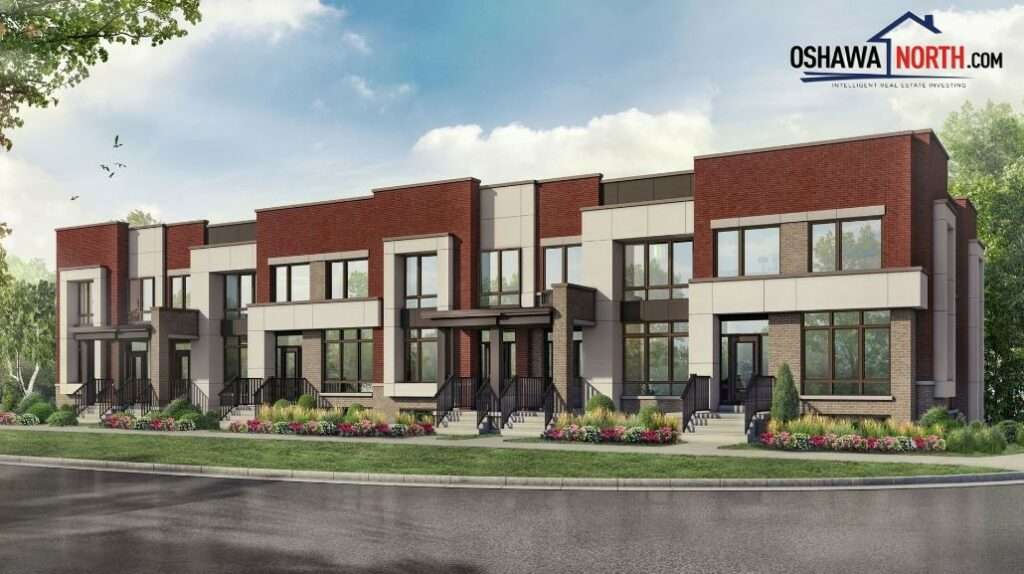 Greenhill Townhome Collection is a pre-construction project by Stafford Homes and Greybrook Realty Partners, estimated to be up for occupancy by January of 2023. The new, modern, townhouse complex project in Oshawa is located just at the corner of Conlin Road east and Wilson Road North. Greenhill will feature 115 low-raise townhome collections (2-storey or 3-storey townhomes) and 4 detached homes.
Greenhill townhome have 2 layouts to choose from. First is the Terrace Collection(with size that ranges from 1,643-1,846 square feet) these are those with garages in the front and a backyard and second. Second is the Garden Collection(with size ranging from 1,612-1,932 square feet) with a large terrace outdoor space. Both offer 3 or 4 bedroom layouts. Greenhill Community is now Available in North Oshawa starting in the $600s(Townhomes) while starting at $800s(Single family detached homes).
Development Details:
Building Type: 2 and 3 Storey Townhome Collection
Ownership: Freehold POTL (Parcel of Tied Land)
Maintenance Fee: $99.99/Month
Construction Status: Pre-Construction
Builder: Stafford Homes
Est. Occupancy: January 2023
Limited Time Offer Monthly Deposit Structure
10% in 365 Days over 13 easy payments:
1
$5000 With Offer
8
$3,000 In 210 Days
2
$10,000 In 30 Days
9
$3,000 In 240 Days
3
$10,000 In 60 Days
10
$3,000 In 270 Days
4
$3,000 In 90 Days
11
$3,000 In 300 Days
5
$3,000 In 120 Days
12
$3,000 In 330 Days
6
$3,000 In 150 Days
13
Balance To 10% In 365 Days!
7
$3,000 In 180 Days
---
Reasons to buy Greenhill Townhomes
This unique freehold townhome collection offers modern architecture with contemporary farmhouse flair. The warm, welcoming layouts are designed for a future where anything is possible. Every home has been planned with the perfect combination of livability, convenience and exceptional quality. At Greenhill, a bright future awaits.
You'll surely be staying centered and connected in perfect balance since Greenhill community is located just minutes from urban amenities and surrounded by lush green space, at the corner of Conlin and Wilson in North Oshawa.
Groceries, shopping, restaurants, and even Starbucks are just five minutes drive, plus commuting is a breeze with Oshawa GO station only a 15 minute drive and the 407 just up the road.
---
Features and Amenities
Greenhill Townhomes will sit in over 6-acres of land and will be built in different blocks with 6 to 8 townhomes located in each block. Investors can expect this development to consist of 115 townhomes and 4 single-detached homes.
It will be built in a quaint community, near many parks, schools and amenities.
The homes will have a modern architectural design and will incorporate warm and welcoming living spaces. These freehold towns will give residents and investors the chance to design the interiors to their own unique personal tastes and styles.
Features and finishes found at Greenhill are 3 stainless steel appliances, washer/dryer, air conditioning, 9′ ceilings on main floor, durable laminate hardwood flooring on main, natural oak finish pickets and railings, extended breakfast bar*, ensuite bath oasis, luxurious full width vanity mirrors, convenient upper floor laundry*, LED lighting throughout, programmable thermostat and much more.
There will be a multitude of layouts and floor plans to suit just about any family with 3 to 4 bedrooms and large, spacious homes ranging from 1,612 to 1,932 square-feet. Many of the homes will feature a traditional street design with a garage in the front and a backyard while others will offer rear lane parking with a large terrace outdoor space. To find the perfect home for you, register with us today to speak to one of our Platinum Agents.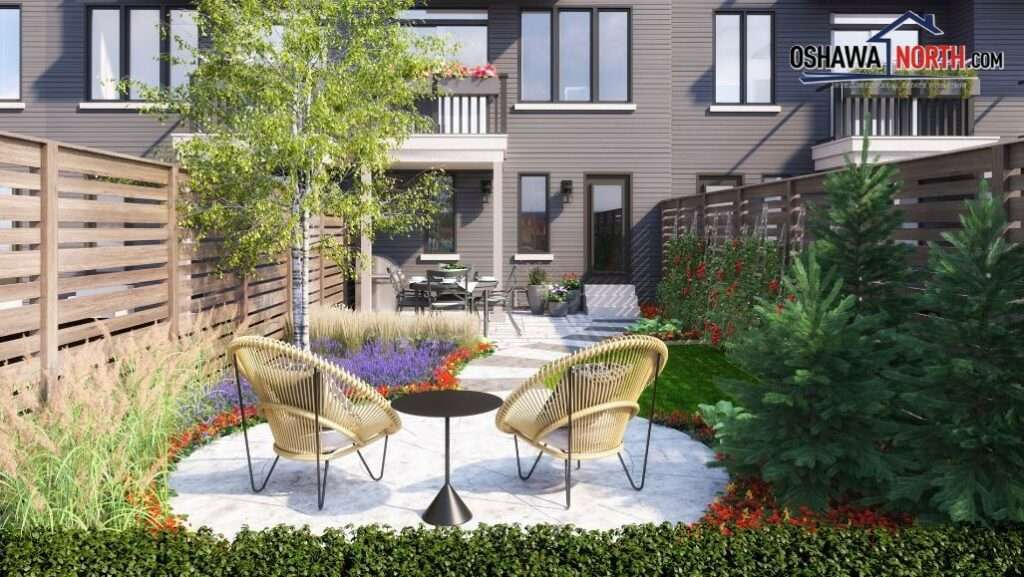 ---
Location and Neighbourhood
As a family-friendly community, Greenhill Townhomes will be surrounded by many local schools including St. John Bosco Catholic High School, Norman G Power Public School, Queen Elizabeth Public School, Beau Valley Public School, Great Beginnings Montessori School and Sunset Heights Public School. Additionally, Durham College and Ontario Tech University will both be just 4 minutes away from this development.
This area will also be surrounded by lush greenery including Cedar Valley Conservation Area, Ritson Fields Park, Kedron Dells Golf Club, North Oshawa Park, Harmony Valley Conservation Area and Pebblestone Golf Course.
Not only will this area be surrounded with natural amenities and schools, it will also provide residents with big box stores and shopping centres.
SmartCentres Oshawa North, a retail complex with many well-known stores including Shoppers Drug Mart, Winners, HomeSense, Urban Barn, SportChek, The Home Depot and Loblaws. In addition to this complex, Oshawa Centre, one of Durham Region's largest shopping malls is just 15 minutes away from this development.
This mall has over 230 stores, services and restaurants to meet every resident's retail and entertainment needs. This development will be just minutes from Highway 407 which will take commuters in and out of the city in a matter of minutes.
---
About the Developer
Stafford Homes is committed to the health and safety of our homeowners, employees, customers and business partners. We wish you and your loved-ones good health and stay safe.
At Stafford, we're committed to building homes that raise your expectations. As one of Toronto's most experienced and innovative real estate development companies, Stafford has earned a reputation for construction quality beautiful designs, and efficient living spaces while consistently developing aware-winning projects on time and by the industry's highest standards. We take pride in every single community we build, but what is most important to us, is you.
Greybrook Realty Partners is the real estate investment and asset management division of Greybrook Capital, a North American private equity firm focused on making investments in the real estate and healthcare sectors. We invest in a range of real estate asset classes with one goal in mind: generate exceptional risk-adjusted returns for our investors while contributing to the economic prosperity of communities in our target markets.
---
Transportation
Highway 407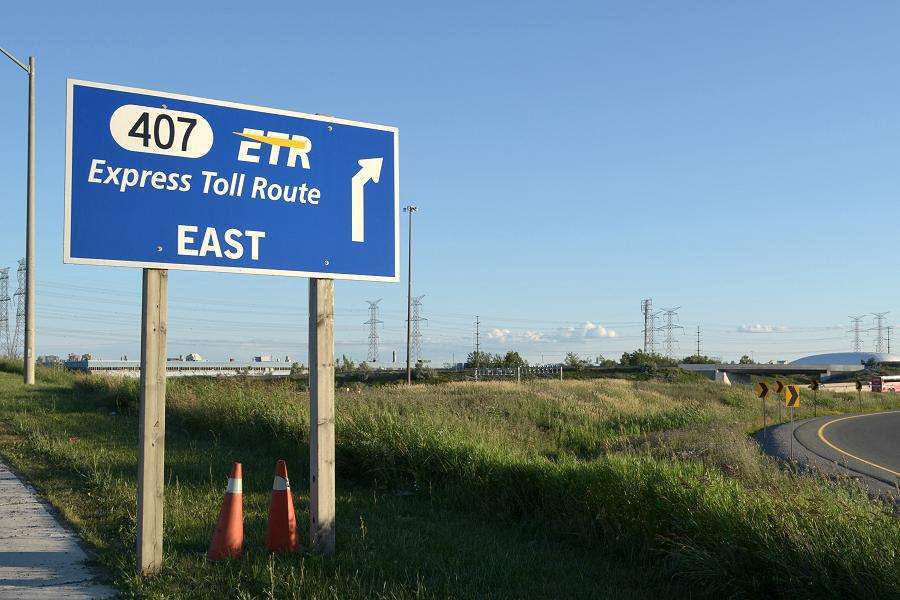 Highway 407, a 9-minute drive from UC Towers Condo is the first provincially owned tolled highway in Ontario. The Province sets and regulates tolls, retains the toll revenue and establishes customer service standards. To ensure a seamless experience for users of both highways, 407 ETR provides tolling and customer services on the Province's behalf for Highway 407 (including Highway 412 and Highway 418).
Oshawa GO Station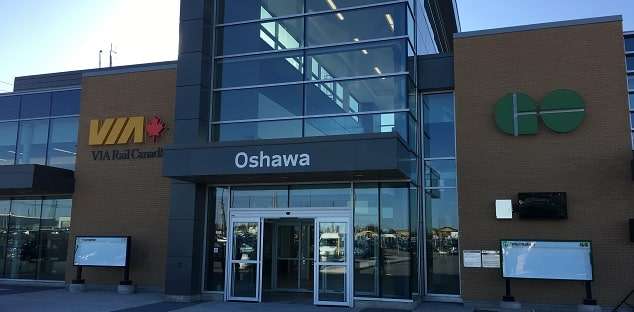 Oshawa GO station is a station for commuter rail, passenger rail and regional bus services in Oshawa, Ontario, Canada. It is the terminal station for the Lakeshore East line of GO Transit and serves Via Rail's Corridor service, which travels from Toronto to both Ottawa and Montreal. The bus terminal is served by bus routes of GO Transit and Durham Region Transit. The train station was also upgraded last 2017 with modern ticketing counter, a waiting area with bigger public washrooms, and a pedestrian bridge to the Via platform which made it easier for drivers, pedestrians and cyclists to access the station.
---
Schools
Queen Elizabeth Public School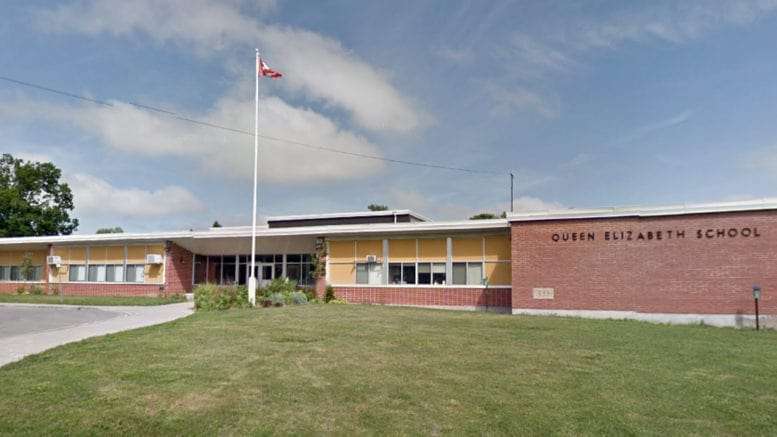 Queen Elizabeth Public School serves a population of 500 students in grades K-8 in Oshawa Ontario. The Queen Elizabeth school community is a safe and caring one with a focus on academics, safety and character education. The school team works collaboratively to emphasize success for each student. Presently, their large urban elementary school on Simcoe Street North in Oshawa, houses 500 Junior-Kindergarten to Grade 8 students, four full day kindergarten classes, two special education classes, an English as a Second Language teacher, a Literacy/Numeracy Coach, 12 Educational Assistants plus their secretarial and custodial staff.
Elsie Macgill Public School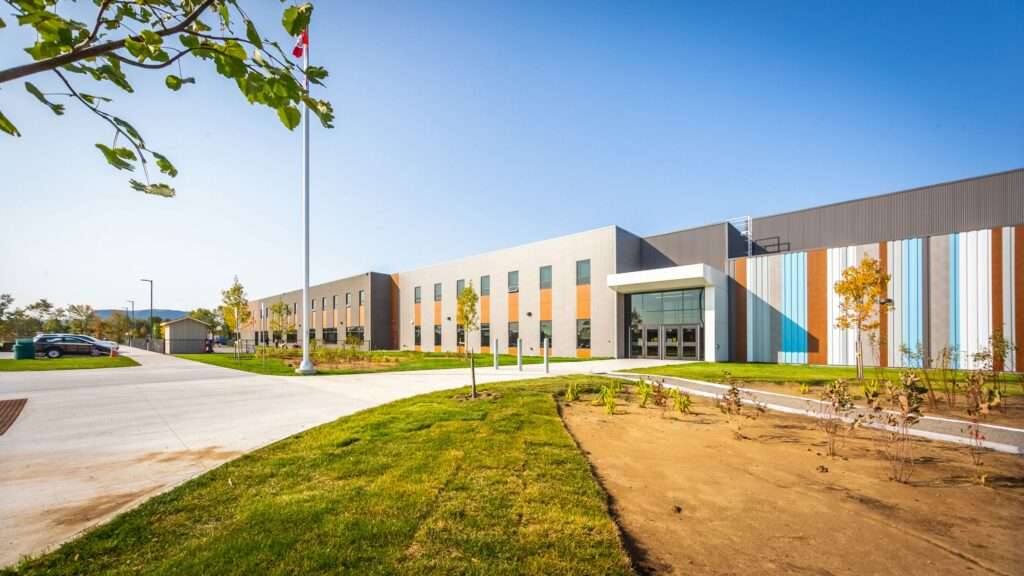 Elsie MacGill Public School serves students in grades K-8 in Oshawa, Ontario. The Elsie MacGill Public School community is a safe and caring one with a focus on academics, safety and character education. The school team works collaboratively to emphasize success for each student. Through a variety of academic programs and supports, extra-curricular activities and community involvement, they are committed to their students' positive experience in school. Located at 800 Greenhill Avenue, Oshawa which is a 2-minute drive from Greenhill Townhomes.
St. Joseph Catholic School

At St. Joseph Catholic School, they are called to celebrate and nurture the God-given talents of each student as we serve with excellence in the light of Christ. They recognize their call to love and serve from our Master teacher Jesus Christ, and they are committed to creating a Catholic learning community under the protection of Mother Mary. The Catholic Graduate Expectations are their foundation as they strive for academic excellence and the acknowledgement of those who achieve it. This school is located at 1200 Summerwood Heights, Oshawa which is 5-minute drive from Greenhill Townhomes.
Other Schools near Greenhill Townhomes:
Kedron Public School located at 1935 Ritson Rd N, Oshawa
Sherwood Public School located at 633 Ormond Dr, Oshawa
Sunset Heights Public School located at 1130 Mohawk St, Oshawa
Father Joseph Venini Catholic School located at 1200 Summerwood Heights, Oshawa
---
Dining
Divino Churrasco Restaurant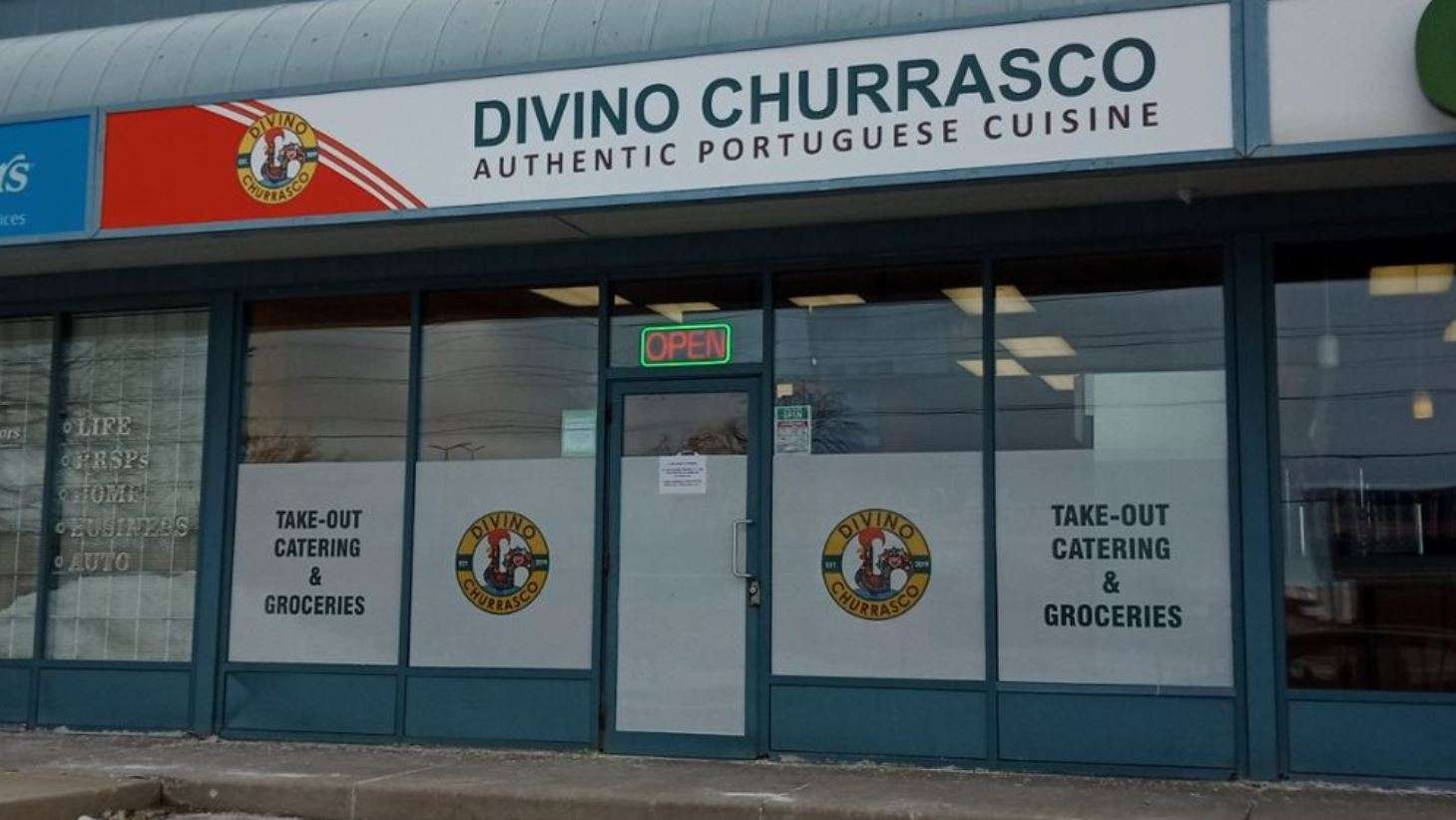 Divino Churrasco Restaurant is a take-out restaurant that serves authentic Portuguese cuisine. The restaurant started in 2018 when 3 co-workers decided to open their own food business. Customers are their compass, their strength to continue. It's for them that everything happens, who keeps alive this desire to serve better. They are open every Tuesday-Saturday at 11AM-7PM and every Sunday at 11AM-5PM. Located at 1288 Ritson Rd N Unit 2, Oshawa which is 4 mins drive from Greenhill Townhomes.
Kelsey's Original Roadhouse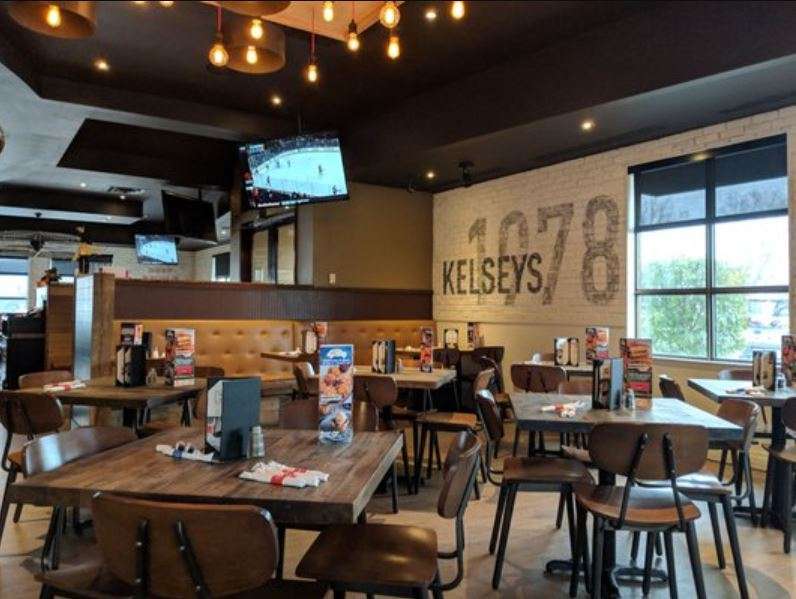 Kelseys has been Canada's Original Roadhouse since 1978. Inspired by the uninhibited spirit of road tripping and the classic Roadhouse, the rules are different at Kelseys. It is where you go to eat what you want to eat, drink what you want to drink, and be who you want to be. Enjoy classics like their legendary spinach dip, fresh double stacked burgers, two-handed sandwiches, and unforgettable chicken wings. They are located at 1312 Harmony Rd N, Oshawa which is 4 mins drive from Greenhill Townhomes.
Upper Keg Restaurant & Bar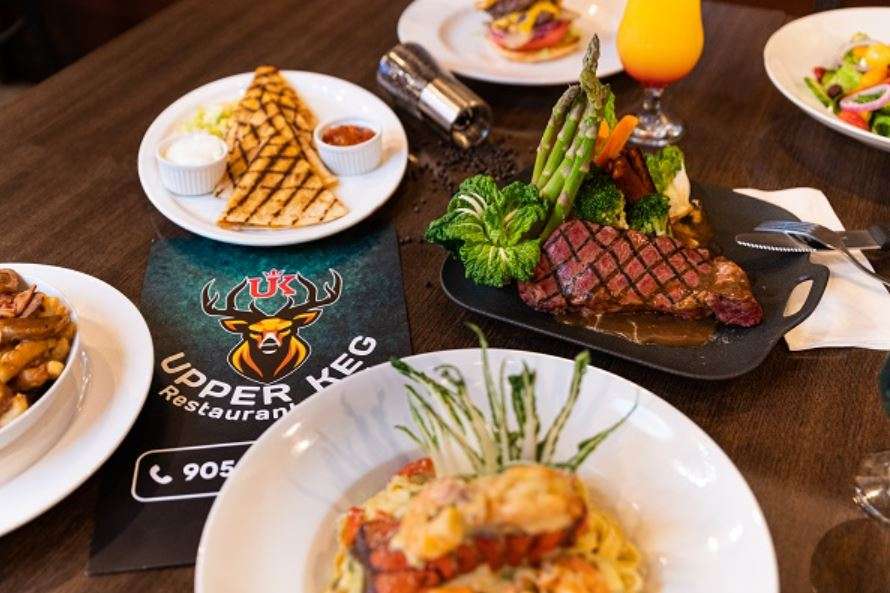 Upper Keg Restaurant & Bar offers great food and amazing drinks which they say made with love. Their chef has long time reputation and brings a wide range of unique recipes at an affordable price range. Come and enjoy your lunch or dinner with your family and friends at the newly renovated Upper Keg Restaurant & Bar located at 1050 Simcoe St, beside No Frills, and 6 mins drive from Greenhill Townhomes. You can also order online directly from their website.
Other Dining Restaurants Near Greenhills Townhomes
Montana's Restaurant located at 1377 Harmony Rd N, Oshawa
Sherry's Diner located at 300 Taunton Rd E #15A, Oshawa
Mexico Lindo Restaurant located at 915 Taunton Rd E, Whitby
Pita Deli located at 1177 Ritson Rd N, Oshawa
---
Attractions and Shopping Centres
Smartcentre Oshawa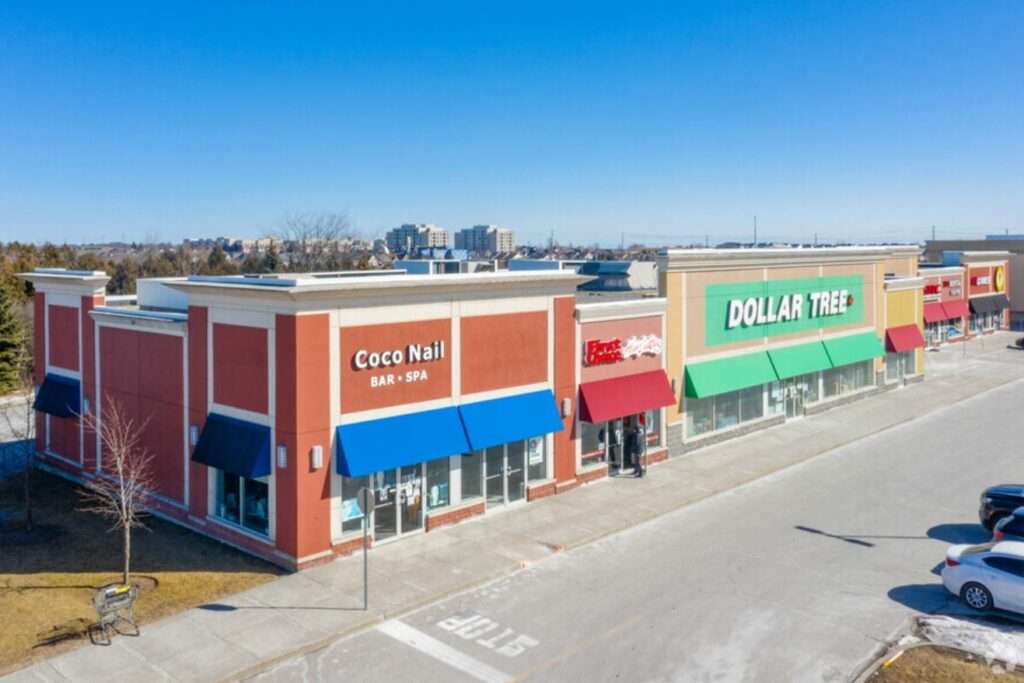 Smartcentre Oshawa North is shopping centre that is located at 1471 Harmony Rd N, Oshawa. This shopping centre brings you the perfect combination of convenience, value and a mix of some of Canada's most popular retailers. Center is anchored by Walmart Supercentre, Loblaws, and Home Depot anchor the site. This shopping centre is only 5 mins drive from Greenhill Townhomes and open 24/7.
Oshawa Valley Botanical Gardens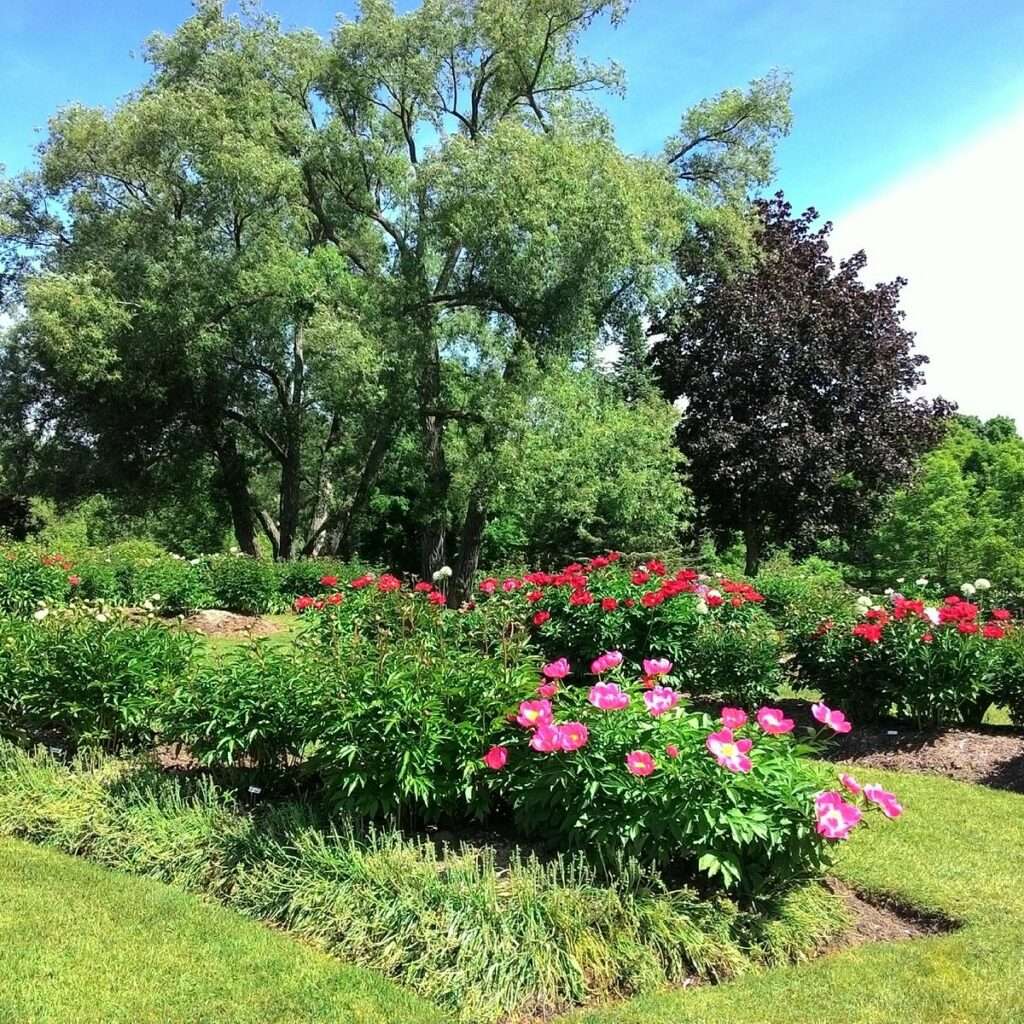 The vision for the Oshawa Valley Botanical Garden (O.V.B.G.) is to develop a unique botanical garden attraction in Oshawa. This botanical garden has one of the largest collection of peonies in North America. This is a beautiful place to go for a walk, take photos, read a book and just sit. Surprisingly pleasant, quiet and peaceful for where it is. Located at 155 Arena St, Oshawa which is 12 mins drive from Greenhill Townhomes. This garden closes at 10pm.
Oshawa Zoo and Fun Farm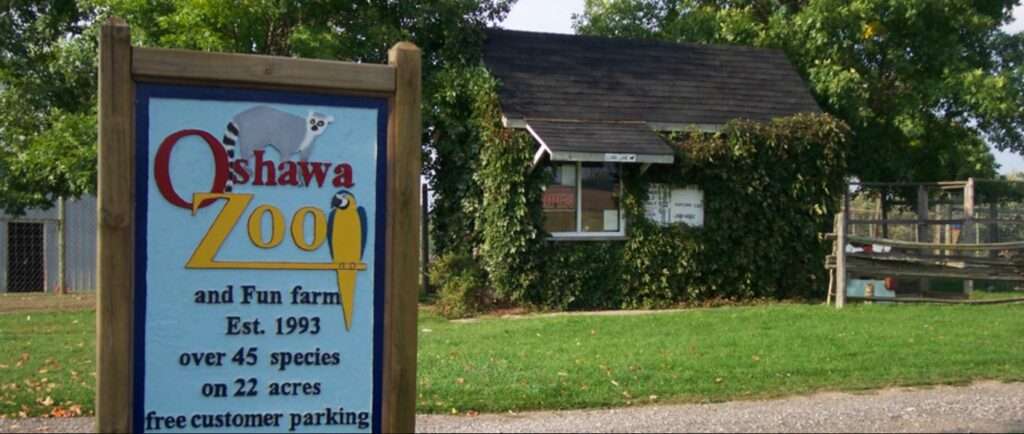 Oshawa Zoo and Fun Farm is a petting zoo with a goal of having a clean, green, interactive mix of friendly exotic and domestic animals. Children and animals would be able to interact through the fences for feeding and petting. Kids could grow up with friends in the animal world that they know by name, grow up with them as they feed orphaned animals by bottle, until those animals have babies of their own. This zoo is located at 3377 Grandview St N, Oshawa, which is 7 mins drive from Greenhill Townhomes.
Oshawa Centre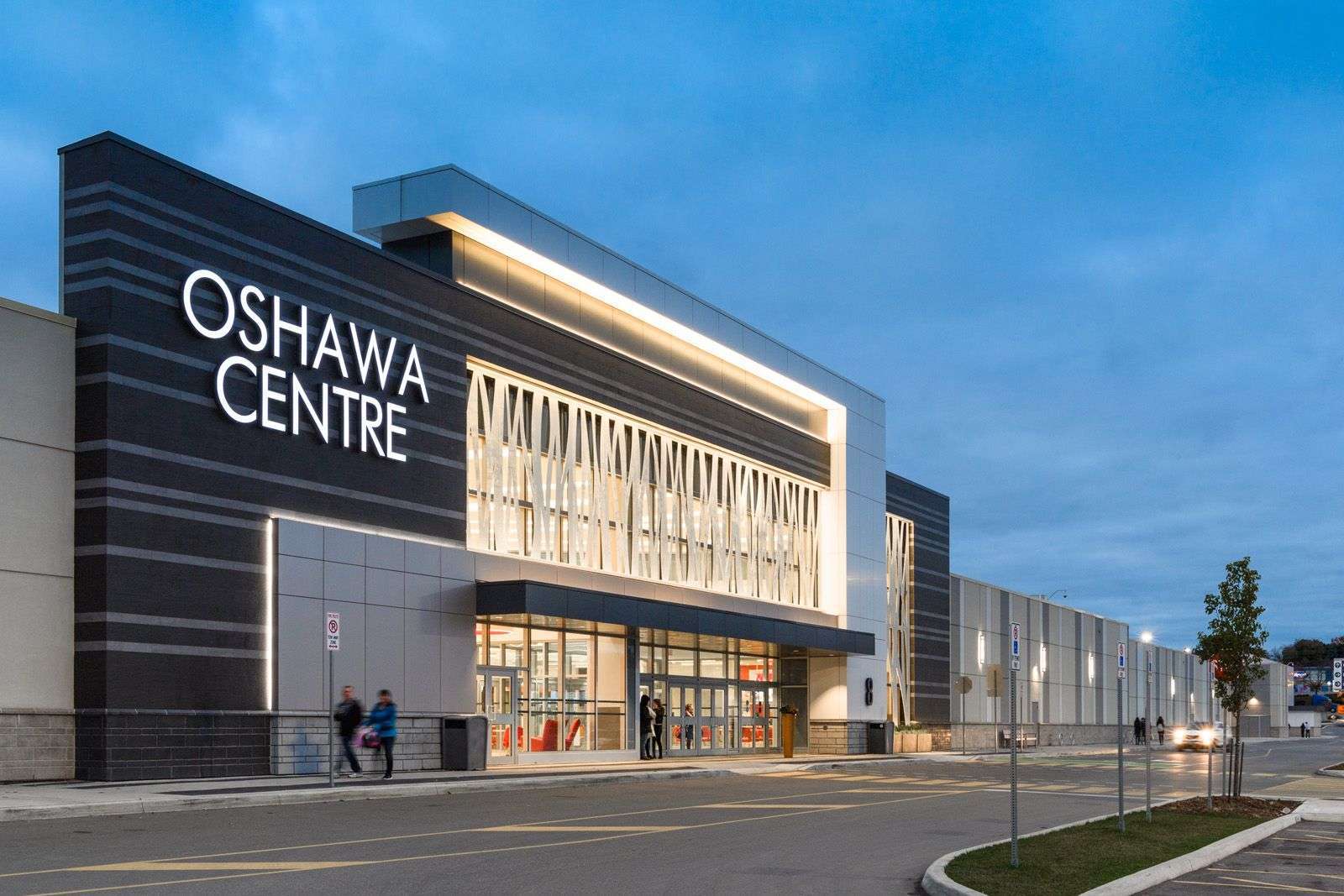 Existing since 1956, Oshawa Centre which is only 22-minute drive away from UC TOWER is an unenclosed shopping centre and included only 28 stores in its directory. Its original structure focused on an outdoor shopping experience and was only a sixth of the size that it is today. This 10-million-dollar project was coined "Canada's most beautiful shopping centre" and housed the formerly popular Eaton's of Canada as its major anchor store. Throughout its existence Oshawa Centre has transformed, undergoing major renovation to a completely indoor mall complex in 1968, renovated in 1994 and redesigned the south end in 2009 to include H&M, Sport Chek, and Shoppers Drug Mart and open everyday from 10:00am-8:00pm.
Other Attractions and Shopping Centres near Greenhill Townhomes:
Giant Tiger located at 601 Dundas St W, Whitby
SmartCentres Oshawa South located at 680 Laval Dr, Oshawa
McLaughlin Bay Wildlife Reserve located at 1908 Colonel Sam Dr, Oshawa
Baycliffe Park located at St Philip Ct, Whitby